01. Abacab (6:56)
02. No Reply At All (4:37)
03. Me And Sarah Jane (5:58)
04. Keep It Dark (4:29)
05. Dodo/ Lurker (7:27)
06. Who Dunnit? (3:23)
07. Man On The Corner (4:23)
08. Like It Or Not (4:51)
09. Another Record (4:20)

Total playing time: 46:43

Tony Banks: Keyboards
Phil Collins: Drums, Vocals
Mike Rutherford: Basses, Guitars

EWF Horns on 'No Reply At All' courtesy of Earth Wind & Fire
Arranged by Tom Tom 84

Words & music by Banks/Collins/Rutherford except track 3 by Banks; 7 by Collins & 8 by Rutherford
Produced by Rutherford, Collins, Banks
Engineered by Hugh Padgham
Recorded & mixed at The Farm, Surrey
Cover by Bill Smith
Remastered at The Farm & Abbey Road Studios by Nick Davis, Geoff Callingham & Chris Blair
Many thanks to Tony Smith, Geoff Banks, Dale Newman, Geoff Callingham, Steve Jones, Graham Hayes, John Flynn, John Mead, Andy Mackrill & Carole Willis & all at Hit & Run

The organization we know as Genesis began as a group of moderately well-heeled schoolmates who'd banded together to write songs for other artists. To broaden their reputation they began performing live & sunsequently recording. After a couple of relatively unsuccessful, but promising albums, the group's line-up settled with founders Peter Gabriel, Tony Banks & Michael Rutherford being joined by Steve Hackett & Phil Collins. This band went on to release adventuresome, sophisticated albums such as 'Nursery Cryme', 'Selling England By The Pound', 'The Lamb Lies Down On Broadway' before Gabriel left in 1975. With Phil Collins becoming the new lead vocalist Genesis began another sequence of impressive LP's with 'Trick Of The Tail', 'Abacab', with its hit single 'No Reply At All' is a 1982 entry.

(sleeve notes from US Atlantic CD)

(P) © 1981 Charisma Records Ltd.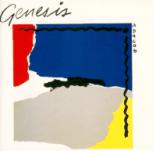 Lyrics