DEEP PURPLE WHO DO WE THINK WE ARE
1973
01. Woman From Tokyo (5:51)
02. Mary Long (4:26)
03. Super Trouper (2:56)
04. Smooth Dancer (4:13)
05. Rat Bat Blue (5:26)
06. Place In Line (6:31)
07. Our Lady (5:20)

Total playing time: 35:10

Bonus tracks (remaster, 2000):

08. Woman From Tokyo (6:37) ('99 remix)
09. Woman From Tokyo (1:26) (alt. bridge)
10. Painted Horse (5:21) (studio out-take)
11. Our Lady (6:06) ('99 remix)
12. Rat Bat Blue (0:56) (writing session)
13. Rat Bat Blue (5:49) ('99 remix)
14. First Day Jam (11:26) (instrumental)

Total playing time: 72:31

All tracks by Blackmore/Gillan/Glover/Lord/Paice

Ritchie Blackmore: Guitar
Ian Gillan: Vocals
Roger Glover: Bass
Jon Lord: Keyboards
Ian Paice: Drums

Produced by Deep Purple
Engineered by Martin Birch
Recorded in Italy during the fall of 1972 with The Rolling Stones mobile unit

Deep Purple Mk 2's final months together found them delivering a powerful, intense & dramatic studio album. Yet beneath the band's remarkable success lay intense personal differences which tore the group apart just 3 months after 'Who Do We Think We Are' was issued in March 1973. This digitally remastered edition of the album also includes outtakes, unissued material, new mixes & a lengthy studio jam. The illustrated 24 page booklet which accompanies the CD relates the events leading up to the recording sessions in Italy & Germany & includes a personal history by bassist Roger Glover.

Remastered edition co-ordinated for EMI By Nigel Reeve & Simon Robinson, DP Archives

(P) © 1973 Purple Records under license to EMI Records Ltd.
Remastered edition (P) © 2000 Deep Purple (Overseas) Ltd. under exclusive licence to EMI Records Ltd.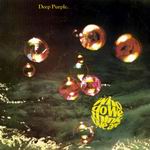 Lyrics