DEEP PURPLE SLAVES AND MASTERS
1990
01. King Of Dreams (5:30)
02. The Cut Runs Deep (5:42)
03. Fire In The Basement (4:43)
04. Truth Hurts (5:14)
05. Breakfast In Bed (5:16)
06. Love Conquers All (3:47)
07. Fortuneteller (5:45)
08. Too Much Is Not Enough (4:19)
09. Wicked Ways (6:35)

Total playing time: 46:46

non-album tracks:

Slow Down Sister (5:56)
Fire, Ice & Dynamite (4:33)

Ian Paice: Drums
Ritchie Blackmore: Guitar
Joe Lynn Turner: Vocals
Jon Lord: Organ, Keyboards, Strings Arrangements
Roger Glover: Bass, additional Keyboards

Written by:
Blackmore/Glover/Turner (tracks 1,4-6);
Blackmore/Glover/Turner/Lord/Paice (2,3,7,9);
Turner/Held/Greenwood (8)

Produced by Roger Glover
Nick Blagona: engineer
Raymond D'Addario: production assistant
Colin Heart: chief personal manager
Charlie Lewis & Artie Hoar: road managers

Recorded at Greg Rike Productions, Orlando (Wally Walters)
Additional recording at Sountec Studios Inc. (Peter Hodgson);
Power Station N.Y. (Mathew Lamonica)
Mixed by Mick & Roger at Power Station N.Y. (Don Gelbert)
Mastered at Sterling Sound (Greg Calbi)

Manager: Bruce Payne, Thames Talent Ltd.
Agencies: Premier Talent (Frank Barcelona, Barbara Skydel), The Agence (Neil Warnock)
Technical assistance: MARC (Vince Gutman), Dreamshire (Patty Sprague), Dawk Sound (Dawk)
String orchestra: Jesse Levy
Copying: Joe Mennonna jr.
Travel: Diane Murphy
Cover painting: Thierry Thompson
Art enhancement: Ralph Wernli
Art direction: Roger Glover
Photography: Dieter Zill

All songs published by Blackmore Music Ltd., Rugged Music Ltd. adm. by Thames Overtures Ltd. except 'Too Much Is Not Enough' by EMI Screen Gems

RCA
(P) &copy 1990 BMG Music
Distributed in the UK by BMG Records/ in Europe by BMG Ariola
A Bertelsman Music Group company
RCA is a regd. tm of RCA Corp.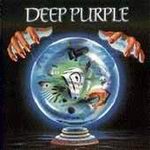 Lyrics