DEEP PURPLE THE MARK 2 PURPLE SINGLES
1979
Live Side
01. Smoke On The Water
02. Black Night
03. Child In Time
Studio Side
04. Woman From Tokyo
05. Never Before
06. When A Blind Man Cries
07. Painted Horse

Ritchie Blackmore: Guitar
Ian Gillan: Vocals
Roger Glover: Bass
Jon Lord: Keyboards
Ian Paice: Drums, Percussion

Second volume of the Deep Purple singles-on-album series: a sensible, coherent collection of the hotch potch selection of 45s the band released over the years, both before & after their break up in '76; a selection that'll allow you to preserve your old & battered original copies for just that much longer.
And that's not the only reason that this album merits the 'Mk II' tag; it also represents the final gathering together of the singles made by the Mk II version of Deep Purple, that is to say the band that contained the all-time classic roll call of Ritchie Blackmore, Ian Gillan, Roger Glover, Jon Lord & Ian Paice... the line-up that, out of the four formations of Purple is held in highest esteem by the fans.
Drawing on material from as far back as '71 & as recently as '77, this album is divided into a live side & a studio side. Numbers lifted from the 'Deep Purple Maxi Single' & 'New, Live & Rare Volume One' make up the live side - three of Purple's best, most storming tracks strung together to make for an irresistible 20 minutes or so.
Smoke On The Water opens the proceedings with Blackmore choosing to play that guitar riff straight, minus the clever-clever embellishments that, for me, marred the other (legally) available live version of this number on the double 'Made In Japan' album.
Purple's best-loved song, 'Smoke' is a graphic tale of the events that took place during the recording of 'Machine Head'. Ensconsed in Switzerland, a fire gutted the Montreaux Casino, home of the Golden Rose Of Montreaux TV Festival, during a Frank Zappa concert & DP's found themselves without a place to record.
Ousted from their second choice of the Pavillion by police when local residents complained about the excessive noise, the band ended up at the sleazy, 'empty cold & damp' Grand Hotel & 'a few red lights, a few old beds' & the 'Rolling truck Stones thing' they proceeded to lay down perhaps the greatest of all their albums.
A breakneck paced Black Night follows (first released as a studio cut on a single in May 1970 - backed by 'Speed King' - this here live rendition originally appeared on '77's 'New Live And Rare Volume One' EP) & Child In Time concludes the side, a little shorter but basically the same as the version that appeared on 'Made In Japan'. Woman From Tokyo, surely one of the most underrated of Purple songs, kicks off the studio side of the album & is quickly followed by Never Before & When A Blind Man Cries, respectively the A & B sides of a PUR102 single released in April 1972. Not one of the Purple's most succesful singles, 'Never Before' nonetheless spent 6 weeks in the charts & reached a highest position of 35. A few years on, 'When A Blind Man Cries' resurfaced on 'News Live & Rare Vol. 1' (aside Ian Gillan's lyrical preoccupation with blind men- see also 'Child In Time' is most intriguing but this is no time for philosophical treatise) together with the final Painted Horse track.
In fact, 'Horse' made its very first vinyl appearance on the 'Rare' disc, an odd country-flavoured song with lots of mouth-harp work, reportedly recorded around the time of the 'Fireball' album.
So, overall, irrefutable Purple-hued evidence that high energy is & never was the exclusive province of frustrated teeangers. Enjoy it.

Geoff Barton

Sleeve design & art direction: David Dragon
Front cover photo: Peter Vernon
Back cover photo: Fin Costello

(P) © 1979 Purple Records/ EMI Records Ltd.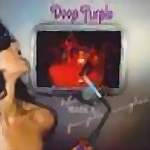 Lyrics