DEEP PURPLE
1969
01. Chasing Shadows (5:31)
02. Blind (5:23)
03. Lalena (5:05)
04. Fault Line(1:46)
05. The Painter (3:48)
06. Why Didn't Rosemary? (5:00)
07. Bird Has Flown (5:32)
08. April (12:06)

Total playing time: 44:14

Bonus tracks (2000 remaster):

09. The Bird Has Flown (2:51) (alternate a-side version)
10. Emmaretta (3:01) (studio b-side)
11. Emmaretta (3:06) (BBC 'Top Gear' session)
12. Lalena (3:30) (BBC Radio session)
13. The Painter (2:16) (BBC Radio session)

Total playing time: 59:00

1. Chasing Shadows (Lord/Paice)
An original rhythmic idea of Ian's, who is heard playing drums, timbales, maracas & cowbell. Jon is playing claves. These percussion instruments were tracked on afterwards of course. The song is about one of Jon's nightmares. Nicky's bass line is a gas.

2. Blind (Lord)
Jon plays harpsichord on this track, which is a love song, sort of squeezed into the format of a 12 bar blues. The middle section is a descending chromatic sequence, which is intended to give a sort of 'slowing down' effect.

3. Lalena (Donovan)
Donovan's song done how we thought Donovan might like to have heard it. The only double tracking on this cut is the guitar passage at the end. The slightly 'jazzy' feel to the organ is a bow in the direction of Donovan's Mellow Yellow Days.

4. a) Fault Line (Lord/Blackmore/Paice/Simper)
Recorded when we heard that we were going to be in L.A. at earthquake time. The drum track was recorded first (with organ) & then reversed.

b) The Painter (Lord/Blackmore/Evans/Paice/Simper)
This track was recorded live; no double tracking.

5. Why Didn't Rosemary? (Blackmore/Lord/Evans/Simper/Paice)
Vaguely inspired by an Otis Spann number, & again it's an attempt to widen the scope of a plain 12 bar sequence; in fact the verses are 14 bars long & the guitar solo verses are 17 bars long. Interesting words from Rod.

6. Bird Has Flown (Evans/Blackmore/Lord)
A different recording from the version released on a single. Ritchie tracked the Wah-Wah guitar on afterward & also the guitar at the end of the middle section.

7. April (Blackmore/Lord)
A sort of 3-part concert about the month of April. The first section is played by just Jon & Ritchie. Jon played piano & organ, & Ritchie played acoustic guitar (a rhythm pattern & a double tracked lead pattern) & electric guitar. The choir was added afterwards. The whole section used about 11 different tracks. Also Ian on timpani can be heard in the background. The second section is Jon's orchestral description of April. The instruments used were: flutes, 2 oboes, cor anglais, 2 clarinets, 2 violins, viola & 2 cellos. The third section is a treatment of the chord sequence of the first section in a more 'Purple' way. As a whole we hope April hangs together as a personal evocation of a beautiful, but sad (to us) month.

Rod Evans: Vocals
Jon Lord: Keyboards, Vocals
Nic Simper: Bass, Vocals
Ritchie Blackmore: Electric & Acoustic Guitars
Ian Paice: Drums, Percussion

String & woodwind section composed & arranged by Jon Lord

Album devised & arranged by Deep Purple
Produced by Derek Lawrence for Edwards Coletta Ltd.
Engineer: Barry Ainsworth
Art director: Michael Savino
Photographer: David Anthony
Cover painting by Hieronymus Bosch

Recorded in London, Jan- May 1969

(P) © 1969 EMI Records Ltd.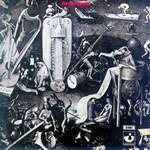 Lyrics