DAVID BOWIE NEVER LET ME DOWN
1987
01. Day-In Day-Out (5:35)
02. Time Will Crawl (4:18)
03. Beat Of Your Drum (5:04)
04. Never Let Me Down (4:04)
05. Zeroes (5:45)
06. Glass Spider (5:31)
07. Shining Star (Makin' My Love) (5:04)
08. New York's In Love (5:04)
09. '87 And Cry (4:19)
10. Too Dizzy (3:59)
11. Bang Bang (4:28)

Total playing time: 53:07

Bonus tracks (Virgin, 1995)

12. Girls (5:38) (1987 B-side of 'Time Will Crawl')
13. Julie (3:45) (1987 B-side of 'Day-In Day-Out)
14. When The Wind Blows (3:36) ('When The Wind Blows' soundtrack, 1986)

All tracks by Bowie except: 4- Alomar/Bowie; 10,12 - Bowie/Kizilcay, 11- Pop/Kraal

David Bowie: Vocals, Guitar, Keyboards, Tambourine, Background Vocals
Carlos Alomar: Guitar, Guitar Synthesizer, Tambourine, Background Vocals
Erdal Kizilcay: Keyboards, Drums, Bass, Trumpet, Background Vocals, Violins
Peter Frampton: Lead Guitar
Phillipe Saisse: Piano, Keyboards
Carmine Rojas: Bass
Earl Gardner: Flugelhorn
Crusher Bennet: Percussion
Stan Harrison: Alto Sax
Laurie Frink: Trumpet
Steve Elson: Baritone Sax
Lenny Pickett: Tenor Sax
Robin Clark, Loni Groves, Diva Gray, Gordon Grodie: Background Vocals
Sid McGinnis: Lead Guitar on 1,2,11
Mickey Rourke: mid-song Rap on 7

Produced by David Bowie & David Richards
Engineers: Bob Clearmountain, Malcolm Pollack
Assistant engineers: Jon Goldberger, Justin Shirley-Smith, Andre Gauchat
Mixed by Bob Clearmountain
Mixing assistant: David Richards
Mastered by Bob Ludwig
Remastered by Peter Mew & Nigel Reeve

Design: Kevin Cann & Mick Haggerty
Art direction: Mick Haggerty
Photo: Greg Gorman

(P) © 1987 EMI Records Ltd.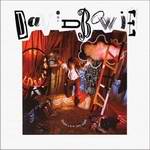 Lyrics